as every year, meltwater She posts her scale on social media. This 2023 edition is based on responses from more than 1,700 communications and marketing professionals from around the world. In the program of this benchmarking study: an analysis of channels, goals and key performance indicators; Analyze the current state of social media marketing; 2023 trends view.
Channels, objectives, and KPIs for social media strategies
The most used social network in the world…
In its scale, Meltwater first looks at the networks most used by digital professionals. Little surprises, the big platforms dominate: Facebook (89%), LinkedIn (87%) Instagram (84%), YouTube (67%), Twitter (66%) and TikTok (30%).

And in France
In France, LinkedIn ranks first (91.2%), followed by Facebook (84%), Instagram (83.2%) and YouTube (64%).
TikTok is also taking off quickly in France: 27.2% of brands are on the network.

Growing social networks
Meltwater also looked at the social networks with the strongest lead. In 2023, video is at the core of uses, and this is reflected in the numbers on platform usage by marketing professionals. 46.98% of the respondents said they want to use TikTok, making it the fastest growing platform.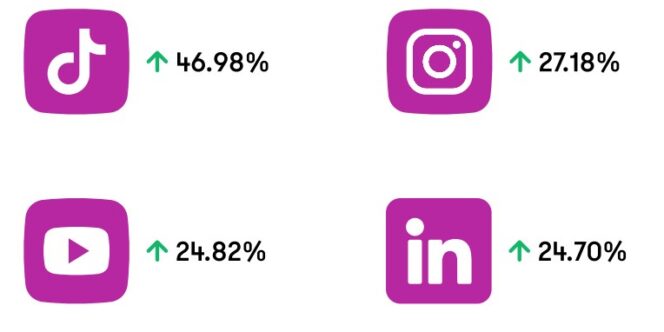 Social media strategies objectives
Even if the objectives of social media presence and actions are varied, those related to branding are the most important. Among Barometer respondents, the first goal is to increase brand awareness (81%), followed by increasing brand engagement (60%). New customer acquisition was cited by 49% of respondents and web traffic increased by 22%.

and key performance indicators to measure its actions
At the KPI level, the most frequently used indicator to measure performance is engagement (80%), number of followers (65%) and website traffic (59%). Return on investment is still little measured, only 17% of respondents said they track the revenue generated.

Social Media Marketing in 2023 in France and around the world
An increasingly important channel
Meltwater reveals in his scale that the current climate (pandemic, economic uncertainty, etc.) has reinforced the importance of social networks. For 52% of respondents, social media is more important to their organization. They are less important for only 4.75% of the respondents.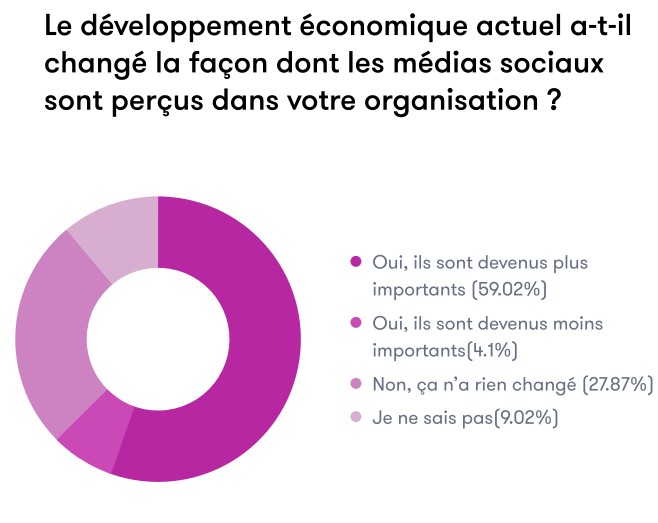 Same note for France: for 59% of respondents, social networks are more important, and represent a main communication channel for addressing clients or potential clients.
Management is still very accommodating
Another topic highlighted by the study: internal management or outsourcing of social networks. For 61.7% of respondents, management is entirely internal, and it is entirely outsourced to only 2.5% of respondents.
In fact, we see that it is generally part of the procedures that are outsourced. Content and video production as well as social ads are some of the most outsourced tasks with third-party service providers.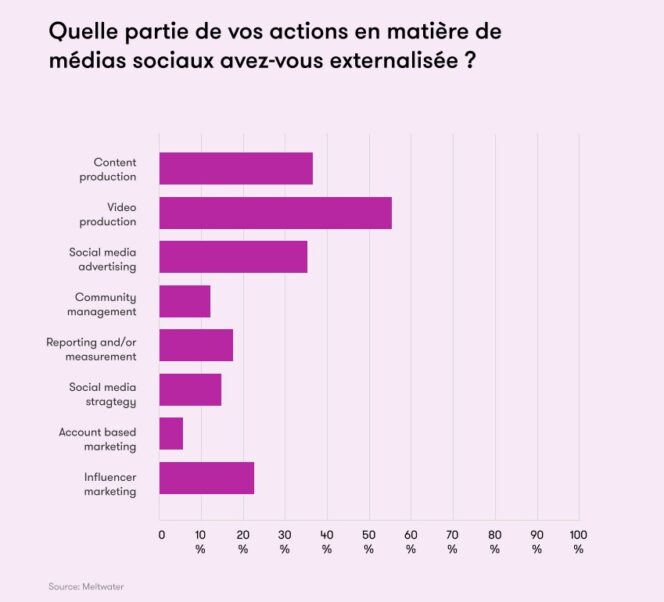 Membership and paid place
In the marketing mix, organic and paid social media actions play different roles. Social media is often advertised as having a lower organic share but will have a more important role in sales and marketing strategy for 71% of respondents.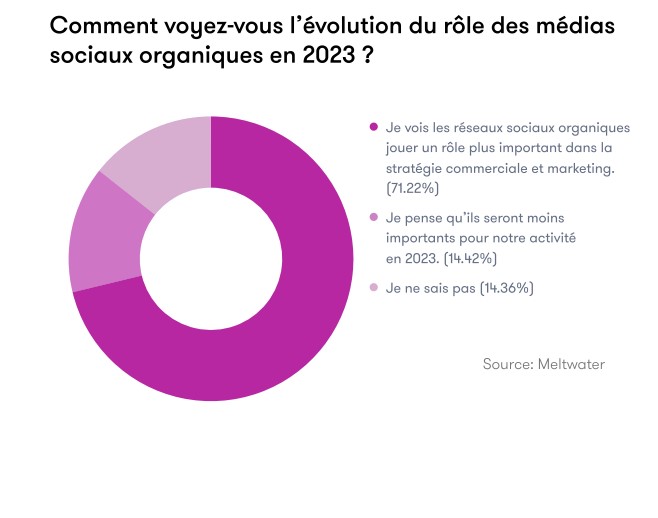 The role of paid actions will also be more important according to marketing professionals. They already 65.7% see payment procedures playing a major role in the future.
In the third part of her scale, Meltwater focuses on the main trends of 2023. A very interesting chapter, which looks in particular at budgets and their increases in France and around the world, where the impact of marketing is on a national and international scale, that of employee advocacy and challenges related to data analysis.
A gauge still very comprehensive, which covers key topics related to social media and gives a complete overview of the interests of professionals in this sector.
To read the barometer in full, simply download it via the link below.